Amber | Counselling - Couples counselling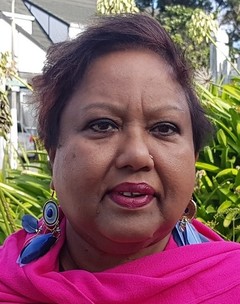 Couples counselling Wellington




32 The Terrace - Level 3 Room 8




6011

Wellington
✓ I also offer online therapy
Great, you are taking the first step.
Leave a message and I will contact you as soon as possible.




Couples Counselling Wellington
---
I'm currently unavailable.
Please contact
another counsellor on this website
.
---
Hi. My name is Amber and I am a professionally qualified counsellor with experience in all of one-to-one, relationship and group therapies.
I consider myself to be an "old soul" and throughout my life people have always gravitated towards me for support and advice and I believe I can provide empathy and understanding in helping you through whatever (relationship) challenges you face.
I have formal education in client-centred, solution-focussed, narrative and motivational therapies as well as training in counselling for grief & loss, abuse, group work and couples therapy, amongst others.
Perhaps my best teacher, though, is the life I have lived and the lessons I have learned in my varied roles as counsellor, mental health coordinator, living without violence facilitator, aged-care support worker, teacher, kindergarten owner, pastry-chef and in my family roles as daughter, sister, wife and mother – it is these experiences that truly help me to understand what you are going through and how I might be able to assist.
Although I can adapt my style to your needs, I have a natural tendency towards helping you to realise practical solutions to your (relationship) issues as I believe that change and action (in whatever form) is what helps you unstick yourself from wherever you are stuck.
I can hold face-to-face sessions in Wellington or can help remotely by voice or video call using whatever technology you wish.
My philosophy
I am a deeply spiritual person and spirituality has been part of my daily life since I was very young. As hard and painful as life's challenges can be, I believe they are integral part of our life's journey and in many cases can be our greatest teachers.
Moreover, I believe that overcoming the bigger (relationship) challenges in life is essential for our spiritual growth and ultimately to lasting happiness.
Of course, this says nothing about the suffering and pain that each of us goes through whilst facing life's issues – having been through many periods of pain, loss, grief and struggle through my own life, I am intimately aware of the pain and suffering we undergo in defeating the obstacles life puts in our way.
In recognising and facing these inevitable challenges, we may sometimes be able to use our own experience and intelligence to find a solution, and we may well even get to the other side feeling better or stronger within ourselves, even if we have been through the wringer in getting there.
In some other cases, though, and often with the more difficult or severe of our challenges, we may well struggle to cope or deal with our (relationship) issues or problems, and I know from experience that this is the time in life when we really need to reach out for help.
If we don't, we may well get stuck in a state of not knowing how to move on and potentially cause ourselves and our relationship longer periods of pain and suffering.
As hard as it can be at times to seek help and confront our problems, we owe it to ourselves to make this a priority as this lost time really should be used for moving on with the rest of our life, experiencing joy and happiness, fulfilling our purpose on Earth and, yes, facing the next set of challenges – rest assured, these challenges WILL come.
If you are at a point where you need help to work through one of more of the (relationship) issues or challenges you now face, I humbly offer my professional skills and own life experience as a service in helping you work though these.
Don't stay stuck longer than you need to - let me help you to move on.
Amber
Online therapy
I use Zoom and Skype for online therapy or over the telephone.
Statement concerning the coronavirus pandemic
I will be taking face-to-face appointments during alert level 2 for Mondays and Tuesdays. I will be following the government's guidelines on hygiene practices and physical distancing as well as providing a safe and welcoming environment for my clients.
Qualifications and registrations
Bachelor of Counselling from Wellington Institute of Technology (WELTEC)
National Certificate in Mental Health
National Certificate in Health Disability and Aged Support
New Zealand Certificate in Health and Wellbeing (Community Rehabilitation Care)
New Zealand Association of Counsellors (NZAC) (Provisional)
Languages offered
English, Tamil, Malay
Registrations
Areas of counselling I can help with
Fees
$150 for couples per 60-minute session
Availability (Opening hours)
| | |
| --- | --- |
| Monday | 8:30am - 5:30pm (face-to-face) |
| Tuesday | 8:30am - 5:30pm (face-to-face) |
| Wednesday | 8:30am - 5:30pm (online/phone) |
| Thursday | 8:30am - 5:30pm (online/phone) |
| Friday | - |
| Saturday | - |
| Sunday | - |
Location
Login
Therapycouples
✓ 50+ Relationship Counsellors
✓ In New Zealand, also online
✓ Marriage & Couples therapy
Menu