Etai | Therapist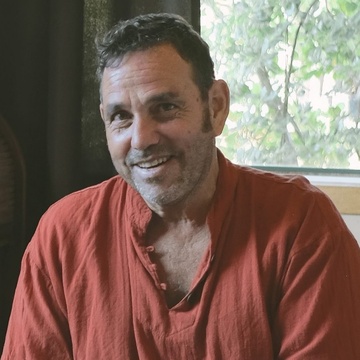 Relationship Therapist Raglan




25A Government Road




3225

Raglan

Send a message
✓ I also offer online therapy
Great, you are taking the first step.
Leave a message and I will contact you as soon as possible.




Relationship Therapist Raglan
Life can be challenging.
It's not always easy to navigate the ups and downs that come our way. Sometimes, despite our best efforts, we find ourselves stuck in a rut, struggling to move forward. Admitting that we need help can be a big step, but it's an important one.

I've been helping people and couples create positive results in their lives and relationships, including lifting depression, easing anxiety, resolving trauma and relationship problems, since 2009.

Using a blend of (relationship) counselling, hypnotherapy, NLP and EFT I will provide you with the therapeutic tools, support, and guidance to help you make positive life changes.

My primary intention as a therapist is to create a lasting positive change in a person's life and empower them to continue on their path to a happy, free and healthy life. Each session is different and tailored to meet your needs.

If you want to know more or make an appointment, feel free to contact me.

Etai
DHypPsych (UK). Brief Psychotherapy & Solution-focused Hypnotherapy
Qualifications and registrations
Diploma Hypnotherapy/Psychotherapy – Uncommon Knowledge, Brighton, UK 2008
Psychotherapy for Clinical Depression Treatment – Uncommon Knowledge – Advanced Hypnotherapy skills, 2008.
Precision Hypnosis – Uncommon Knowledge – Advanced hypnosis skills, 2009.
NLP Hypnosis – Richard Bandler & John La Valle – The Society of Neuro-Linguistic Programming, 2009
EFT (Emotional Freedom Technique) – Stephanie Alison, 2011
Advance psychotherapy based EFT and matrix EFT – Jill Wootton 2020 Extra Studies
Eriksonian Conference – International psychotherapy conferences, 2012 and 2013
Brain Science Webinar Series – NICABM, 2014
Overcome Anxiety with Mindfulness – Ron Siegel, PsyD (NICABM), 2016
Tangata Tiriti – The Treaty of Waitangi – Dr Ingrid Huygens Treaty people Inc 2018 NZ
Therapies offered
Areas of counselling I can help with
Fees
Since the crucial part of the therapy is the change you experience in your life outside of the therapy
room, a focus period of regular sessions will allow us to verify those changes and to have time to
look into different aspects, checking what has worked and what still needs to be worked on.
To support you on your journey, I offer the following timeframes:

Six weeks
In the six weeks' timeframe we
will work together on the 'big stuff that bothers you.
• Get clear on your goals
• Resolve trauma, phobia or past hurt
• Stop smoking, or be more confident at work or in a social sitQuation


Three months
A three-month timeframe allows you to dive deeper.
• We will start with defining short and long-term goals
• Work together to remove the 'significant obstacles' as with the six-week timeframe
• We'll have the time to look at different aspects of whatever bothers you and see the facets in more
detail
• Build a more precise design for your current stage of life
• Established a firm base using the basic needs approach to give you the spare capacity to learn and
grow


Six Month
In the six-month timeframe, you can fine-tune and envision the life you want.
In six months, we will move past the issues that bother you at the moment. After going through all the
previous stages, we will have the opportunity to shape and polish the life we want and begin to work
toward achieving it.


For pricing and in-depth information about the sessions, contact me, and book a free 30m clarity call.
Photos
Location
Login
Therapycouples
✓ 50+ Relationship Counsellors
✓ In New Zealand, also online
✓ Marriage & Couples therapy
Menu